Precious Preemie Blanket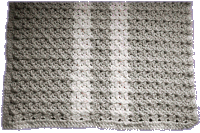 Materials:
Caron Simply Soft worsted weight yarn
Hook size H...
Ch 62
Row 1: 2sc in 4th ch from hook, ch2, 2sc in next ch, *skip 2 chs, 2sc in next ch, ch2, 2sc in next ch, repeat from * to last 2 chs, skip 1 ch, sc in last ch, turn.
Row 2: ch3, (2sc, ch2, 2sc) in each ch2 space, ending with sc in 3rd ch of turning ch3, turn.
Repeat Row 2 to your desired length. Change colors as often as you want or work in a solid color. When done work a sc edging all the way around.
© Copyright Melissa's Designs 2005
Please do not post these free patterns on your web site, they are copyright protected.