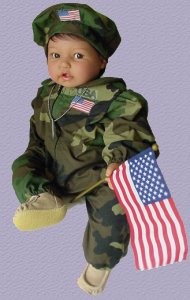 Onslow Memorial Hospital
Onslow Memorial Hospital in Jacksonville NC. This hospital serves a lot of the military wives from Camp Lejuene Marine Base, the largest Marine base in the United States.
They have a 23 bed nursery for well babies and 14 bed level 1 NICU and a 4 bed level 2 NICU.
This hospital can use all items from preemies to newborns and has a special need for isolette covers to keep out the light and sound for the little ones.
Blankets should be 18"x18" or 20"x20" (preemie size)
Hats should fit 4lbs. and up.
Little booties and socks should be regular size as I was told there little feet grow quickly.
God's Tiny Angels
1533 Lincoln Dr.
Huntington, WV 25704
Items that babies need from preemie to toddlers:
blankets
hats
booties
socks
bibs
soft toys
sweaters
burial gowns and hats
t-shirts mittens
Thank you for making a difference in the lives of Gods Tiny Angels!!
" To the world you might be just one person, but to a child you might just be the world."