Cabell Huntington Hospital
Cabell Huntington Hospital in Huntington, WV. This hospital is one of two level 3 NICU's in the State. There is an average of 35 to 40 babies per month in the unit. There are 30 beds for babies that need constant attention and 15 beds for little ones who are born normal weight but are having a rough start. Some stay a few days and some stay weeks to months. These are really trying times for these famlies and just to know they are not alone and that we care gives them a little comfort.
These parents are so touched by the gifts of blankets, hats and little socks and booties. They have been very well received. Please, won't you help make a difference for these little ones?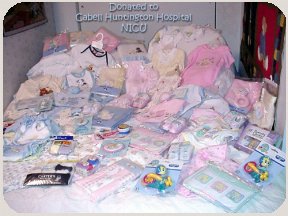 Blankets should be 18"x18" or 20"x20" (preemie size)
Hats should fit 4lbs. and up
Little booties and socks should be regular size as I was told their little feet grow quickly.
God's Tiny Angels
1533 Lincoln Dr.
Huntington, WV 25704
Items that babies need from preemie to newborn:
blankets
hats
booties
socks
bibs
soft toys
sweaters
burial gowns and hats
t-shirts mittens
New or gently used clothing, sizes preemie to newborn.
Also Cabell Huntington Hospital is in need of Cancer hats for children ages 2-10 years of age who are undergoing chemotherapy. Please when making these hats make them out of very soft yarn and out of cheerful colors.
Thank you for making a difference in the lives of God's Tiny Angels!!
" To the world you might be just one person, but to a child you might just be the world."